For the first time the super-soft tyres will hit the Formula One tracks in the upcoming season in Australia, F1 tyres supplier Pirelli have announced.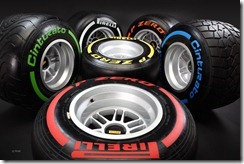 In order to cope with the high temperatures and abrasive surface, Pirelli has taken this step. The giant tyre company has announced its compound choices for the first four races of the 2013 season -Australian GP, Malaysian GP, Chinese GP and Bahrain GP.
At the first race, in Melbourne, super-soft and medium tyres will be used. A week later, in Malaysia, medium and hard will be tried on the rough surface of Sepang. In China, soft and medium tyres will be on offer and Bahrain track will be tried with soft and hard tyres.
As was the case last year, each team will receive six sets of the harder compound and five sets of the softer compound for each race. Pirelli will also bring four sets of intermediate and three sets of full wet tyres to all four races of the season in case of rain.
Info IBN, Image: Pirelli/F1 Fanatic