Red Bull could be ramping up efforts to go it alone in formula one as an engine manufacturer.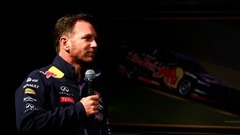 In the days between Australia and Malaysia, open war broke out between the energy drink-owned camp and its works engine supplier. Renault, now openly contemplating a return to full team ownership, hit back furiously this week at what Cyril Abiteboul called "lies" about the real reasons for Red Bull's lack of pace in 2015. After those comments hit the headlines, the Frenchman posted to Twitter a photo of boxing gloves, with the caption: "Packing up to Malaysia." Indeed, the FIA has mischievously paired Abiteboul with Red Bull's Christian Horner for what will be a fiery official press conference on Friday.
In the wake of the obvious divorce throes, however, there are signs of impending peace. Reporting on his blog f1-insider.com, German correspondent Ralf Bach says Abiteboul has apologised for the "lies" outburst, justifying it on the basis that Renault's executive board instructed him to hit back publicly against Red Bull's sniping.
Red Bull's Dr Helmut Marko agreed: "We see this matter as settled and are now looking forward constructively." The tentative declaration of peace could mean that Renault and Red Bull are closer to deciding their respective roadmaps for the future. "During the season," Abiteboul is quoted by f1news.ru, "we will analyse the situation and submit our findings to the board of directors. "In any case, it's not a question for this year, as we have a two-year contract with Red Bull which is valid until the end of 2016 and we intend to comply with it."
It appears Red Bull may also be preparing for a future without Renault. There are rumours the team was so critical of its French partner in and after Australia because it is paving the road to debut its own 'Red Bull'-inspired improvements. Former Mercedes guru Mario Illien and his Ilmor organisation have been drafted in to look at Renault's turbo V6 power unit and are currently working on proposed modifications. Also arranged by Red Bull is to run the Ilmor upgrades at the state-of-the-art facilities at AVL, an Austrian specialist powertrain company.
And Michael Schmidt, the highly-respected correspondent for Germany's Auto Motor und Sport, claims: "Red Bull has ordered its own 'VTT' facility'." He said the only other companies with access to a 'virtual test track' – allowing full car testing under a roof – are Mercedes and Honda. Schmidt added: "When you ask what a team needs with this most extreme form of a dynamometer, there is really only one answer — to become an engine manufacturer."