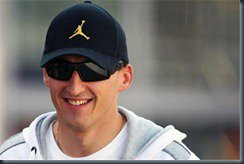 It seems that Robert is heading towards a complete and full recovery and at truly amazing speeds (considering the accident and how serious were he's injury's ). Now, after telling his manager that he won't have any  trouble in returning to F1 competition, new information has emerged about Robert Kubica going to make he's first test with Toyota simulator and if all goes well, then he will test in a Formula1 Renault car similar with the one used by Kimi Raikkonen in Valencia and in this way nor he or the Lotus F1 Team will break the rules about testing ban. The Toyota simulator in Cologne was selected because apparently is a much better one than then what Lotus F1 Team has in Enstone, and given the importance of the test everyone involved want's to use the best possible equipment.
  Latest news are that Robert's elbow was operated again to restore full movement. In any case, Renault are still waiting, and it seems that Kubica's  health is good enough for Eric Boullier and Gerard Lopez (Genii owner) to be thinking in these terms. Lopez also declared for the Tageblatt Luxembourg newspaper: "We still do not know exactly but I think there will be clarity in a few weeks," "at the moment, we are still expecting that in 2012 Robert will be racing with us."
  This being said we can only wish all the best to Robert and hope that we will see him on a racing track as soon as possible.