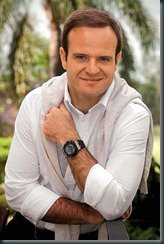 The AP has leaked an interesting information about the ex Williams F1 driver Rubens Barrichelo, it seems that he will test for Rubens Barrichello will test for KV Racing an IZOD Indycar Series team next week at Sebring.
The ex F1 driver is scheduled to be at Sebring International Raceway for next Monday and Tuesday, an anonymous person  which is familiar with the future test leaked this information to Associated Press on Wednesday and is understood that the 2-day test session is exploratory for both Barrichello and the KV Racing team.
Barrichello has spent the last 19 seasons in Formula One, having the longest career in the sport and has failed unfortunately to win a World Title but he has covered more than 50,000 miles racing before he was replaced last week at Williams F1 by another Brazilian Bruno Senna and currently he has no other contract with other F1 for the 2012 season.
"I won't be driving the Williams car this year," he posted last week on his Twitter page. "I wish my friend (Senna) all the best. The future is wide open."
He also added on the same page: "when I said that things were open is because I still have lot's of speed on me,"  "just like an old friend said: racing is in my blood."
Barrichello won 11 races in F1 and he accumulated more than 68 podium finishes, but none in the 2011 season. The Brazilian managed to get a pair of 9th place finishes last season, and ended the year with 4 points but must be said that this was no fault of he's own but to the fact that Williams F1 team has failed to produce a competitive racecar, in fact it was the worse year in history for the legendary team.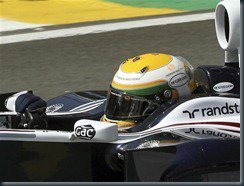 Barrichello has scored the eighth highest points total in Formula One history, spent five years as teammate to Michael Schumacher at Ferrari and was championship runner-up twice, in 2002 and 2004. He became the first driver to reach 300 Grand Prix entries and 300 starts in 2010, and served as chairman of the Grand Prix Drivers' Association.
It's a known fact that his wife would not let him race in the IndyCar Series, and it's not clear if Barrichello was serious when he declared that in the past or not. He's close friends with fellow Brazilian Tony Kanaan, who drove last season for KV and is scheduled to return to the team in 2012.
KV Racing fielded three entries last season, for Kanaan, Takumo Sato and EJ Viso. Kanaan finished a team-best fifth in the final IndyCar standings.
Next week's test could be a test to see if Barrichello has any interest in possibly racing in IndyCar in 2012, or if he can offer any technical assistance to KV, which has partnered with Chevrolet this season and considering Rubens experience in open wheel racing he could be an asset for the team or he could be one of the drivers as well.