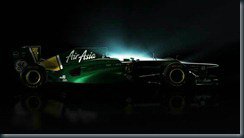 Caterham F1 unveils the new CT01 to the public 1 day ahead of the schedule. The team has revealed its car on the cover of the latest edition of F1 Racing magazine, subscribers of which received their copies today. But the team has now also released an image of the car through its official Caterham Twitter feed.
More images will be made available tomorrow on the official website of the team and also an interview with Mike Gascoyne about the creation of CT01.
Caterham's CT01 will be powered by Renault engines, features a platypus-style nose with front suspension mounts that raise above the noseline. Features such as these may prove to be quite common this year due to the new regulations covering the nose area.
It also appears to be more aggressive aerodynamically than its predecessors, which were deliberately conservative, and features tightly-sculpted, low rear bodywork with slim and short sidepods to maximize the low drag effect in that area.
The CT01 is scheduled to make its track debut at Jerez next month when testing kicks off.
Info: autosport.com