The seven time world champion Michael Schumacher continues to criticise the Pirelli tyres and his final assessment about them is that: 'It's like driving on raw eggs'.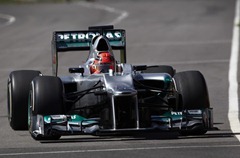 After the Bahrain Grand Prix where Schumacher finished 10th, he launched numerous attacks against the Pirelli tyres. He was very unhappy about their fast degradation which he considers is a factor that prevents the drivers from pushing as hard as they can and reach the limits of their cars.
During an interview for the CNN the Mercedes driver has stated once more that he is very unhappy about the tyres and compare them to 'raw eggs'.
"I just think that they're playing a much too big effect because they are so peaky and so special that they don't put our cars or ourselves to the limit," he said. "We drive like on raw eggs and I don't want to stress the tires at all. Otherwise you just overdo it and you go nowhere."
However, Pirelli has argued it should be congratulated for such an open, unpredictable season. The manufacturer claimed it was simply responding to calls for more eventful racing, with director Paul Hembery saying:
"We are pushing the limits. "It's a very, very aggressive approach that we took. It's what we were asked to do. We were asked to bring challenges to the teams and this is what we've done."
Since the Bahrain GP, Nico Rosberg, Michael's teammate, and Mark Webber have both praised the Pirelli tyres, saying that while they may be a challenge to drive, it helps keep the sport entertaining.
Tyre strategy has never been so important in Formula 1, and with that comes the unpredictability on race day. The fact that Schumacher has twice critisised the tyres may be because he has become accustomed to tyres that could last a whole race. Michael won seven Grands Prix under that condition, and the fact that things aren't the way they once were appear to be angering him.
Info: CNN, Image: Mercedes AMG Petronas