A strong performance today from both Ferraris drivers which clearly indicates that Scuderia is very much in the fight for top positions tomorrow in qualifying.
Fernando Alonso:
"It was a positive day and we are reasonably pleased with how the car behaved. We had no major problems and more importantly, we didn't have to make any radical changes to the F138 to adapt it to this track and its long straights and slow corners,characteristics which I like a lot and usually produce a great show in the race. Unfortunately,the wind and sand make everything a bit more complicated here, because the track surface
never gets completely clean. However, the initial feelings are good and I think we can be up in the leading group tomorrow, a group that is all within the same two, maximum three tenths. We have not yet decided if we will use the aero updates we tried in the morning. It is not yet completely clear how they worked and in the afternoon, we concentrated on comparing the
two tyre compounds we have for this race. Ahead of us is another long evening of studying data to choose the best strategy and set-up for qualifying and the race".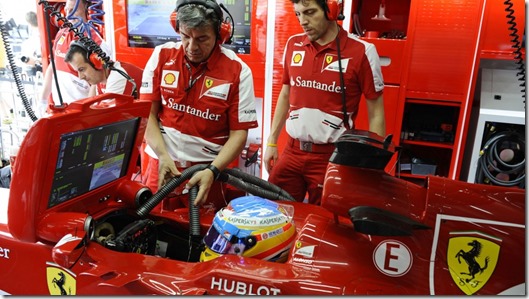 Felipe Massa:
"Everything went well today, even if it's not easy to say at the moment where we will be on Sunday. Car balance was good and it behaved well in  all conditions, even if we suffered a bit with tyre wear, especially at the rear. It's pretty normal to have significant degradation in such high temperatures and on this front, we have a lot of work to do to prepare for the race. On the Medium tyres, the F138 worked really well, even over a long run, but the key on Sunday will be managing the degradation of both compounds, as well as deciding on whether or not to use the updates we tried here this morning".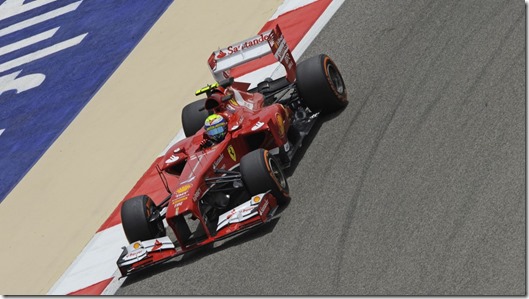 Pat Fry:
"Of the aerodynamic updates we tried this morning, some worked well, while with others we have yet to decide if we will use them this weekend, because it is still too early to say what real advantage they bring. There was not enough time to test them fully, but I'm still pleased at how we managed to get through the work programme planned for both cars. In the
afternoon session, we had a good balance on the Hard tyre, while we found it a little bit more difficult with the Medium. On this compound, Fernando was unable to improve his time, partly down to traffic, but I'm sure that tomorrow he will find a way to go better. Race pace seems good here and now we face a careful analysis of all the data we gathered to see where we are compared to our main rivals".
Info & Images: Scuderia Ferrari