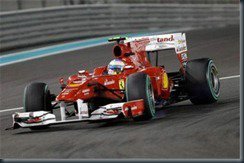 After failing in it's first attempt Scuderia Ferrari passed the mandatory F.I.A. crash test on the second attempt. It leaked into the press that the new car code named 663 had to undergo a test at a technical facility in Bollate, near Milan after failing the first attempt with F.I.A.
  Various sources reported that the monocoque it's supposedly much lighter than it's predecessor and that it has been reinforced with additional layers of carbon fiber in order to sustain subsequent side-impact test. According to Spanish newspapers the new carbon fiber addition will have a negligible effect in term of speed, and the new Ferrari car is much expected to be presented at Jerez next month.
  There are unconfirmed rumors that Ferrari's new "revolutionary" design will have something of a "dolphin nose" similar with what we could see last year at McLaren.
  The new Ferrari will be introduced to the world by Felipe Massa at Jerez, who will drive the car in the first 2 days and then Alonso will take it's place for the reminder of the test days (also 2), and according to the schedule the two drivers will have similar apparitions at future tests in Barcelona.
  It was also reported that the new Sauber C31 also passed it's preliminary crash test with F.I.A. for the rear structure of the car. As many of you might know Sauber will continue to be Ferrari powered for 2012 as well. Sauber also announced that they will unveil the new car on the eve of the test day also at Jerez.