As 18 F1 cars practiced in Brazil, one of the absent teams came to the end of the line.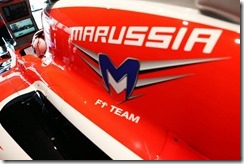 The Telegraph's Daniel Johnson broke the news, reporting early on Friday that Marussia, although listed on the FIA's 2015 entry list, has "ceased trading".
An early hint about Marussia's impending fate was given by the FIA on Wednesday, when the renamed Manor F1 Team was listed on the 2015 list accompanied by a "subject to confirmation" asterisk. Interestingly, there is no asterisk alongside Caterham's 2015 entry. "(Marussia) will not be in Abu Dhabi," Johnson 'tweeted' from Interlagos. "Staff made redundant."
Although the Banbury based team and also Caterham were absent in Austin and now again in Brazil, chief Graeme Lowdon attended the US race for talks. "But no one came up with the money," Johnson added. The initially unofficial news, broadcast live by British television Sky during its practice coverage on Friday, was then confirmed by the broadcaster.
Shortly afterwards, the administrator FRP Advisory admitted: "It goes without saying that it is deeply regrettable that a business with such a great following in British and world motor sport has had to cease trading and close its doors."