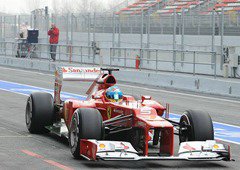 Ferrari's rivals have commented that despite the problems that Scuderia Ferrari had during the pre-season tests the Maranello base team is still a strong fighter and they might fight for the title still. Pat Fry, the technical director, has already announced that the team has ruled out a podium in Australia but on the other hand they are preparing a major update as well for the first race of the season which might work to their advantage.
  During the winter tests F2012 already showed that has good speed over strait lines and that there is a lot of tweaking to be done to the car. For this reason alone the other top teams refuse to write Ferrari off from the title battle, Eric Boullier, the Lotus F1 Teams boss said: "Is much to early to tell and we've seen that Ferrari has many resources and they are very competent, so you never know how things will develop".
Ferrari is better than it looks
  "I'll be waiting to see the car development. I do not think that having done a race simulation in which, supposedly, we were quicker than them, we will beat them. We must focus on our car and make the best of it. The package that we have this year looks promising, but it will be hard and we must not miss any opportunity, as it will be difficult to achieve podiums or score points. I will not underestimate the resilience of Ferrari, they will fight back" added Boullier.
  Looking from a different perspective the Red Bull Racing boss Christian Horner commented on the competitiveness of this year: "They will be the usual, so I'm not surprised that McLaren is strong. I think Ferrari is better than it appears and Mercedes AMG seems to have progressed from last year. So I think that the main rivals will be the usual. "
  To stay ahead of Ferrari would be too optimistic
  Alan Permane, trackside operations director at Lotus, said that they had no insurance that Ferrari is behind: "Clearly they are all very close. At first people said that we should not trust the pre-season tests and then when they are finished, people ignore what first was said and take them as fact. Until we get to Melbourne won't know anything. We know that Red Bull and McLaren will be there. As for the rest of us, who knows?"
Image: © Ferrari