Few sports mix as well as casinos and Formula One.
There is something intrinsically exciting and glamorous about both, exemplified by Monte Carlo famous, both for its casinos and its racing track. Microgaming Tribune for example, continues the glamour with microgaming casino reviews, while the excitement of F1 can be captured on the web too, through apps or games.
It is also a sport rich in history and British drivers have had great success over the years. Here are some of the more famous drivers.
Lewis Hamilton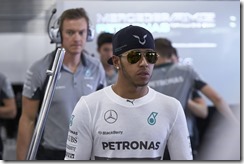 Lewis Hamilton is closing in on Formula 1 success this year, heading the drivers championship going into the last few races of the season, having a narrow lead ahead of his Mercedes team-mate Nico Rosberg.
If he succeeds, it would be his second championship, having won in 2008.
Championships: 2008
Race wins: 30
 Jackie Stewart
Jackie Stewart, who has since been knighted, is one of the best known names in British motor racing. He won the championship three times, in 1969, 1971 and 1973 and in total won 27 races in his eight year career. Nicknamed the "Flying Scot", Stewart has long been recognised as one of the leading figures in F1 history.
Championships: 1969, 1971, 1973
Race wins: 27
Graham Hill
Another great name in F1, Hill became the only driver to win what is known as the Triple Crown in motor sport, namely the Formula 1 World Championship, Indianapolis 500 and the 24 hours of Le Mans. A charismatic figure, Hill died when the plane he was piloting crashed in foggy weather. His son Damon also won the F1 championship in 1996.
Championships: 1962, 1968
Race wins: 14
Nigel Mansell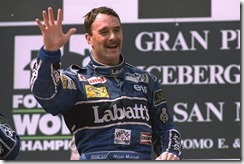 Mansell won the F1 championship once, in 1992, but retains the record for the most career wins in the sport, 31 and was also winner of the CART Indy Car World Series a year later, in 1993. Mansell sits sixth in the list of drivers with the most race victories, headed by Michael Schumacher and also, for a time, was the driver with the most number of pole positions in a single season. Mansell spent time with four constructors during his time in the sport, and was a Williams driver when he won the World Championship.
Championships: 1992
Race wins: 31
Jim Clark
Another famous Scottish driver was Jim Clark, who won two championships in the 1960s as well as achieving success in other motor sport events, notably the Indianapolis 500 which he won in 1965. He died in a Formula Two race in Germany in 1968 and at the time had won the most races and achieved more pole positions than any other driver.
Championships: 1963, 1965
Race wins: 25
James Hunt
Another to die too young was James Hunt, who won one championship, in 1976. Hunt had six years in F1 and, after his retirement had a successful career as a commentator on the sport alongside the legendary Murray Walker. Hunt died of a heart attack in 1993 aged just 45.
Championships: 1976
Race wins: 10
Info: Celia