According to German media there are strong indications that place Mercedes and Sauber ahead of Red Bull under race conditions.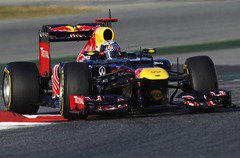 Red Bull Racing and McLaren Mercedes are the Formula1 teams that everyone think will dominate the first race of the season that will start this weekend in Melbourne. But a technical analysis made by the German publication Auto Motor und Sport  shows that the grid could be a lot more different than expected.
Mercedes could be set to surprise the entire F1 world by setting the pace in 2012. The publication found that the W03 had the strongest 'long run' pace during recent pre-season tests. "The analysis of recent testing in Barcelona shows that Mercedes are even faster than Red Bull," the
report exclaimed. Brawn is quoted by Brazil's Globo: "You always believe it. You want a winning car, and I have not seen anything that tells me that we don't have (now)." Perhaps even more sensationally, Sauber ranked second in the Auto Motor und Sport analysis of long runs, although last year the Swiss team looked similarly fast in testing. Red Bull, McLaren and Lotus come next, followed by the struggling Ferrari. Peter Sauber wrote in Blick newspaper: "It has never been as difficult as it is this year to get a picture of where everybody stands. "Why? Because the field has never been so close together."
Info: GMM, Images: © Red Bull & Mercedes