Before Fernando Alonso's horrific crash in the Australian Grand Prix at the beginning of the 2016 season, most Formula One fans didn't know about Stoffel Vandoorne… but they do now.
The 24-year-old Belgian driver is widely regarded as one of motorsports' hottest, young properties and it's only a matter of time before the McLaren backup drivers gets the call-up to join one of the teams on a permanent basis.
And who knows, it may even be McLaren who takes him on. As of June 6th, rumours have started to surface regarding the future of Jenson Button. The Briton is out of contract at the end of the current season and, at 36 years old, he may be considering retirement. In fact, he might not even have a choice.
McLaren racing director Eric Boullier is one of Vandoorne's biggest fans and the Frenchman has already hinted at a permanent deal for the rising star next year. On his Formula One debut in the Bahrain Grand Prix, Vandoorne scored a point to send out a clear statement of intent: he is here to stay.
Whether McLaren take him on or not, Vandoorne will have no problem finding a team to work with next season and it will almost certainly be McLaren's loss; especially considering Button's age and the Belgian's potential. To put his achievements at Bahrain into perspective, Vandoorne was the first person to score points on his debut since Sebastian Vettel in 2007.
In addition, he qualified AND finished above Jenson Button in that particular race – an achievement that may have confirmed Boullier's belief that Vandoorne is the man to take McLaren back to the top. They have struggled in recent years but with somebody like Vandoorne in the franchise, they will only improve and climb back up the constructor's rankings.
McLaren must get fully behind both Button and Alonso for the remainder of the campaign before making any concrete decisions. Next up is the Canadian Grand Prix in Montreal – and Jenson Button will have fond memories after winning the race in dramatic fashion in 2011. Who knows, he could shock the world and produce a fine performance when it matters most of all this weekend…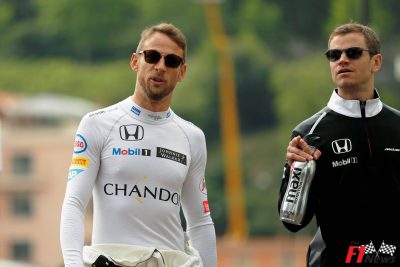 On current form, McLaren are building and it is the perfect time to give Vandoorne a chance to prove his worth on the big stage. But for now, Button and Alonso are McLaren's main men. Vandoorne will have his shot in the near future – there's no doubt about it.
Victory is probably beyond McLaren this weekend but a points finish is certainly within their reach. At the time of writing, Button is priced at 7/4 in the F1 betting markets to finish in the top 10 in Canada and the Briton will be looking to take inspiration from his incredible performance five years ago.
On his day, Button is a competent driver but he's just not as good as he used to be. Age has caught up with him and it's now time to see what Vandoorne can do. After all, his performances in other forms of motorsport suggest that the Belgian will be a huge hit on the Formula One circuit.