With just one point separating Lewis Hamilton and Sebastian Vettel, immediately after a disastrous start to July for Mercedes, the Silver Arrows' prior dominance of F1 continues to wane.
Here and now in 2018, the four July races could be make or break for the aspirations of constructors that are still in with a chance of glory.

Last year's Hungarian Grand Prix was a dramatic affair. Despite failing to win, Lewis Hamilton used defeat to motivate himself toward a fourth world title.
Victory for Lewis Hamilton at the French Grand Prix, after his failure to win in Canada (a circuit at which he has a particularly strong record) could prove to be a pivotal result. Regardless of machinery, it takes great character to come back from two consecutive failures to win, especially when those failures are contrary to prior expectations.
Given the unexpectedly fine margins, there can be no doubt that the final race of July, the Hungarian Grand Prix on 29 July, will be a particularly crucial one. While Mercedes look the strongest call to win the Constructors' Championship, the uncertainty after the summer break has meant that online betting offers like Bet365's £100 bonus are commonly used, in case they don't live up to their billing as favourites. However, building up a good lead prior to a summer break is always important, with lesser teams never failing to make improvements.
So just how crucial is a good result in the last race before the summer break? In terms of winning (en-route to a title) the answer is 'not very'. Remarkably, no winner of the last race before the summer break has gone on to win the title: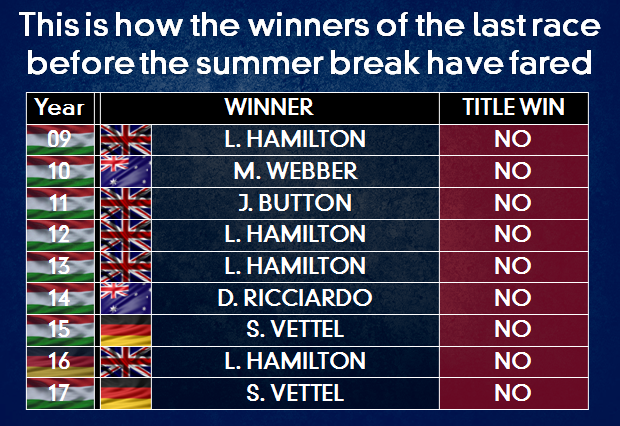 Last year, Sebastian Vettel won the Hungarian Grand Prix, and in doing so, managed to cut down what was a far more comfortable lead for Hamilton, compared to the one he had at the beginning of July 2018. If anything, however, Hamilton benefitted from a summer of reflection and re-entered the fray stronger for his experience, winning more consistently and cruising to his fourth title.
Though some bemoan the unmatched power of Mercedes today, the mid-2010s were as predictable as night and day. Bliss for fans of the Silver Arrows, the years of 2014 to 2016 hardly offer a fair analysis of how the race preceding the summer break can act as a catalyst to improved form.
Sebastian Vettel's most recent title win, in 2013, came via a surge in form after the summer break. That year, no driver was able to win consistently before it, and though Hamilton was the winner of the Hungarian Grand Prix, a 'home victory' for Vettel at the German Grand Prix in the previous race was a huge psychological boost. That is exactly what it could be again if he wins, with the 2018 title race shaping up to be an intense one.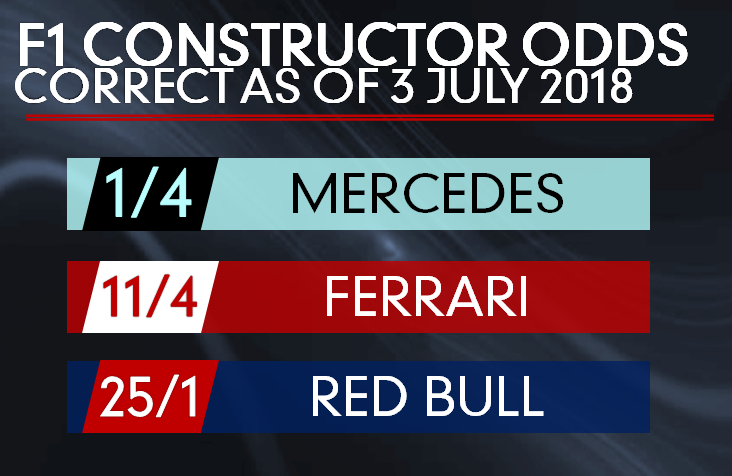 The parallels between 2013 and 2018 do not end there. Like the Red Bull RB9 chassis that brought Vettel victory five years ago, the Ferrari 062 EVO chassis still has room for improvement. There are also lessons to be learnt from last season, when Ferrari had what was considered the fastest car, but through a failure to take positive risks, missed out on the constructor title by a considerable distance.
For Ferrari, or even Red Bull, to wrest supremacy away from Mercedes, there must also be a focus on how 'secondary' drivers in a team perform against rival 'primary' drivers. Last season, Mercedes' Valtteri Bottas proved invaluable from a constructor perspective, beating Vettel enough times to make it a comfortable win for his constructor.
Though constructors will always have their own 'champions', knowing the worth of every driver on the roster can be the difference between success and failure.