The proud sporting nation of Canada has been a mere spectator in the world of Formula One for almost a decade.
Since Jacque Villeneuve Junior's departure from F1 in 2006, thousands of Canadian motorsports fans have had to watch while the Drivers' Championship has been dominated by Europeans, with top places also being occupied by drivers from South America, Australia, Mexico, and the United States.
The last 10 years of Formula One action has had no shortage of drama, and Canadian fans have continued to follow the sport in their droves, with each grand prix achieving huge viewing figures on Canadian television.
Formula One betting sites like http://extra.bet365.com/news/en/Motorsports, where Lewis Hamilton is priced at 4/7 to retain next season's Drivers Championship, have attracted a deluge of web traffic over the years and 2016 will be no different.
Then of course there is the Canadian Grand Prix, which regularly attracts more than 100,000 avid Formula One fans from across the nation on each of its three days, providing emphatic proof, if it were needed, that this is a country with a deep-rooted love for the sport that has not faded despite a decade with no homegrown talent to cheer on.
The last driver to come close to giving Canada a long-awaited representative on motorsport's biggest stage was Robert Wickens, who was the reserve driver for Marussia in 2011. The 26-year-old, who hails from Toronto, showed much promise early in his career, claiming second place in the FIA Formula Two Championship in 2009, before winning the Formula Renault 3.5 in 2011 with Carlin Motorsport.
But he has since moved into the Deutsche Tourenwagen Masters competition, where he drives for Mucke Motorsport, and there has been little sign of either Wickens, or compatriot Bruno Spengler, who also drives in the DTM, making a step up to the F1 stage anytime soon.
So Canadian F1 fans are left to reflect on a proud history, which has seen some of the sport's biggest stars emerge from their shores. Here is a look back at the careers of Canada's very best.
Gilles Villeneuve
Between the years of 1977 and 1982, Joseph Gilles Henri Villeneuve made an indelible mark on the history of Formula One and the world of motorsport at large.
During that five-year period he made 67 race starts, claiming two pole positions, 13 podium finishes, and six memorable victories.
After achieving success in the US and Canadian Formula Atlantic championships, he was offered a drive at McLaren in 1977 and made his Formula One debut at the British Grand Prix in the same year.
But it was with Ferrari that Villeneuve made his name, earning fans all over the world for his dynamic driving style. He achieved second place in the 1979 Drivers' Championship, and might have gone one better and become Canada's first F1 champion, had he not been tragically killed in a crash during qualifying for the Belgian Grand Prix in 1982.
The Canadian Grand Prix takes place at the circuit named in honour of the man who put his home nation on the Formula One map.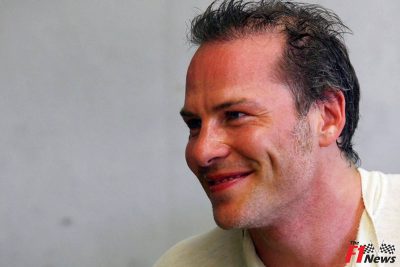 Jacques Villeneuve
Jacques Joseph Charles Villeneuve was just eight years old when his father finished second in the Formula One Drivers' Championship, and he was only 11 years old when his dad died.
Had Gilles lived to see his son's career unfold, he would have seen Jacques not only match his achievements but surpass them in some style, exploding out of the IndyCar 500 to become Canada's first Formula One champion.
The 1990s was a golden era for F1 talent, and Villeneuve Jr. had to go head-to-head with the likes of Damon Hill and Michael Schumacher to reach the very top, but he achieved just that when he clinched the Drivers' Championship in 1997 at the German's expense.
A career record of 23 podiums and 11 wins from 163 race starts left Villeneuve with a legacy to be proud of when he bowed out of F1 in 2006. But how he must have hoped that a fellow countryman would continue to fly the Canadian flag after his departure. As yet, no one has succeeded in doing so.