After a positive start for the Marussia F1 Team in Thursday's Free Practice sessions, optimism turned to disappointment today when Jules Bianchi was unable to take part in qualifying for his home Grand Prix in Monaco.
Team-mate Max Chilton ended Q1 in 20th position after a challenging opening session on the intermediate tyre on a track which was drying rapidly follow a rain shower just prior to qualifying.
As Jules left the pits a problem surfaced and it was clear he would not be able to continue. He was instructed to pull over and switch the car off. Having examined the information and the car it is now evident that he experienced a small fire in the engine air tray.
Max Chilton:
"After a good start on Thursday, today has been quite a big challenge with the tricky conditions we had in qualifying. Naturally I was hoping for a better grid slot because it's all about grid position in Monaco. I think I got the best out of the tyre too early and it just wasn't there at the end when the track was a bit drier. It's disappointing because it will be a long race tomorrow. The weather looks fine, so with a clean first lap I'll be hoping to make the best of any opportunities which come our way."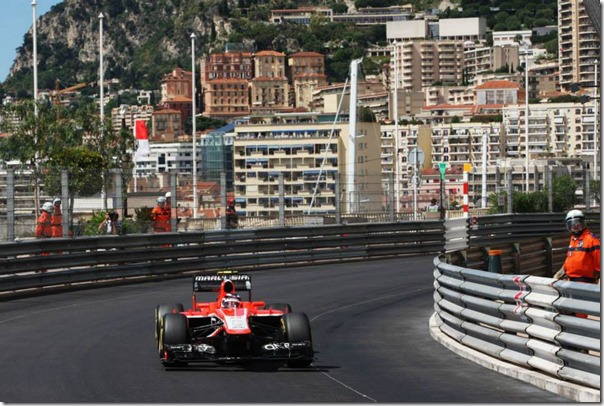 Jules Bianchi:
"Of course I was hoping for a good shot at qualifying for my home race, so it is very disappointing to have to pull over so soon and not take part in the session. The Team aren't entirely sure of the full cause of the problem just yet but it was clear that I would not have been able to complete any laps, which is why they asked me to pull over. We have to wait to see what happens. I think it could be a very exciting race for everyone tomorrow; things have not been straightforward through the field so we have to remain focused and see what happens and then do the best job possible in what are tough circumstances."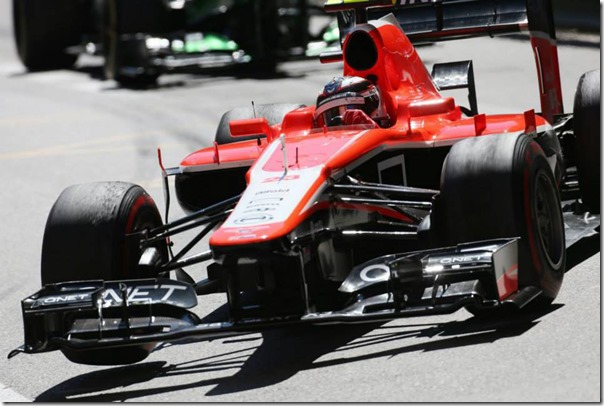 John Booth, Team Principal:
"In FP3 this morning we opted to do a little more work on our long run pace, having been less happy with this on Thursday. We got very little from the option tyre so we knew qualifying was going to be a challenge even before the weather turned against us. We needed a dry session for our two drivers, who have never driven around Monaco in a Formula One car in the wet before. We are very sorry for the problem which prevented Jules from taking part in the session and we will look to ensure this is rectified going forward. With Max we were perhaps not quite there in terms of the optimum time to fit the last set of Intermediate tyres. It will be a tough race tomorrow but we will give it our best shot and see what we can make of it."
Info & Images: Marussia F1 Team