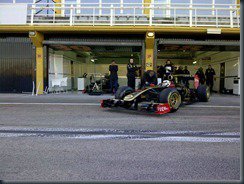 Kimi Raikkonen was chosen to be Romain Grojan teammate for Lotus team in 2012 and he's getting back on the track today in Valencia's Ricardo Tormo circuit.
  After Raikkonen was announced as a Lotus driver for the 2012 season the team confirmed it would give him an opportunity to reacclimatize to an F1 car before the first test. Today 23.01.2012 he's driving a 2010 Renault R30 at the Circuit Ricardo Tormo, with the car painted in the 2011 Lotus Renault livery.
While a testing ban means Raikkonen cannot run the current car, the rules allow teams to run two-year old machinery on Pirelli's demonstration tires. Raikkonen has previously admitted that the biggest challenge of his comeback would be trying to understand the new tires having last races on Bridgestone's, but Pirelli's director of motorsport Paul Hembery confirmed to ESPNF1 that the tires used in this test will not give him that opportunity.
  "It's not going to help him much at all, not really," Hembery said. "They're a different profile, different strength; it's a running profile tire so it's not going to help him too much."
Info: espnf1.com