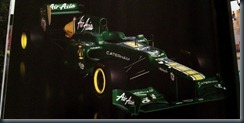 Yesterday the new image of CT01 leaked to the media thanks to an mail error (or not) so now with the first winter test of the new Formula1 season just around the corner, teams have to make the presentation of the new cars with they intended to fight for the championship while trying the best position possible. The first team to present its new "weapon" has been Caterham.
  As said before Wednesday we could see the new car pictures all over the internet, but the 2012 challenger was officially presented this Thursday. The team's technical director Mike Gascoyne has been in charge of explaining how all has been the done from design to development all in all the whole process. 
  "We focused a lot on developing the wind tunnel. With the new regulations, we have worked hard to get through the 'crash test' of the FIA ​​to reach the winter tests. We got it before Christmas and I think we were the first team to do, " said the Gascoyne.
  It seems that the design itself has evolved from a year ago: "The car's design has been progressing since early 2011 and we know how to work hard and what to expect. We have a stable design team led by Mark Smith, which means we can go one step further in terms of design details. " Mike Gascoyne has no doubt that they will arrive on time at Jerez: "The car will be fully prepared for the test in Jerez. On the development of aerodynamics, we conducted a program in Italy and have made another in the wind tunnel owned by Williams, which has significantly increased our understanding of the car aerodynamics. All this makes us think that we will have a better and more competitive car. "
  Regarding the changes that are in the car, he added: "Last year we had to fight the blown diffuser, because we were all season trying to figure out how it works and why we were at a disadvantage but the aerodynamics is what's always changing, so we have devoted much time understanding it."