F1's next winner could be at the wheel of a black and gold car.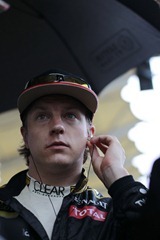 "I think Kimi (Raikkonen) will be the sixth different winner in the sixth race," said Finnish commentator and former driver Mika Salo, to the MTV3 broadcaster.
Although the results in 2012 have proved impossible to predict so far, many paddock pundits expected Lotus' E20 to be the car to beat last weekend in Barcelona. "The big surprise was when Kimi didn't win," admitted former Ferrari driver Salo, referring to Pastor Maldonado's victory for Williams.
Also confident about Lotus' potential is Raikkonen's teammate, Romain Grosjean, who finished behind the 2007 world champion last weekend. "It's good to be a little disappointed with third and fourth," he told the French language RMC Sport. "It shows that as a team we are convinced we can win."
According to the reigning world champion team Red Bull's drivers, however, there is a downside to this year's impossible-to-predict F1 landscape. "Maybe we will see an HRT or a Marussia on pole in Monaco," world champion Sebastian Vettel said, unenthusiastically and half-seriously. Mark Webber insists that what has been described as the Pirelli 'lottery' might not be a good thing for the sport. "I don't know if they (the fans) will get sick of seeing so many different winners," the Australian told Fox Sports. "It's nice to have different winners but also we want rivals."
Info: GMM
Have your say: